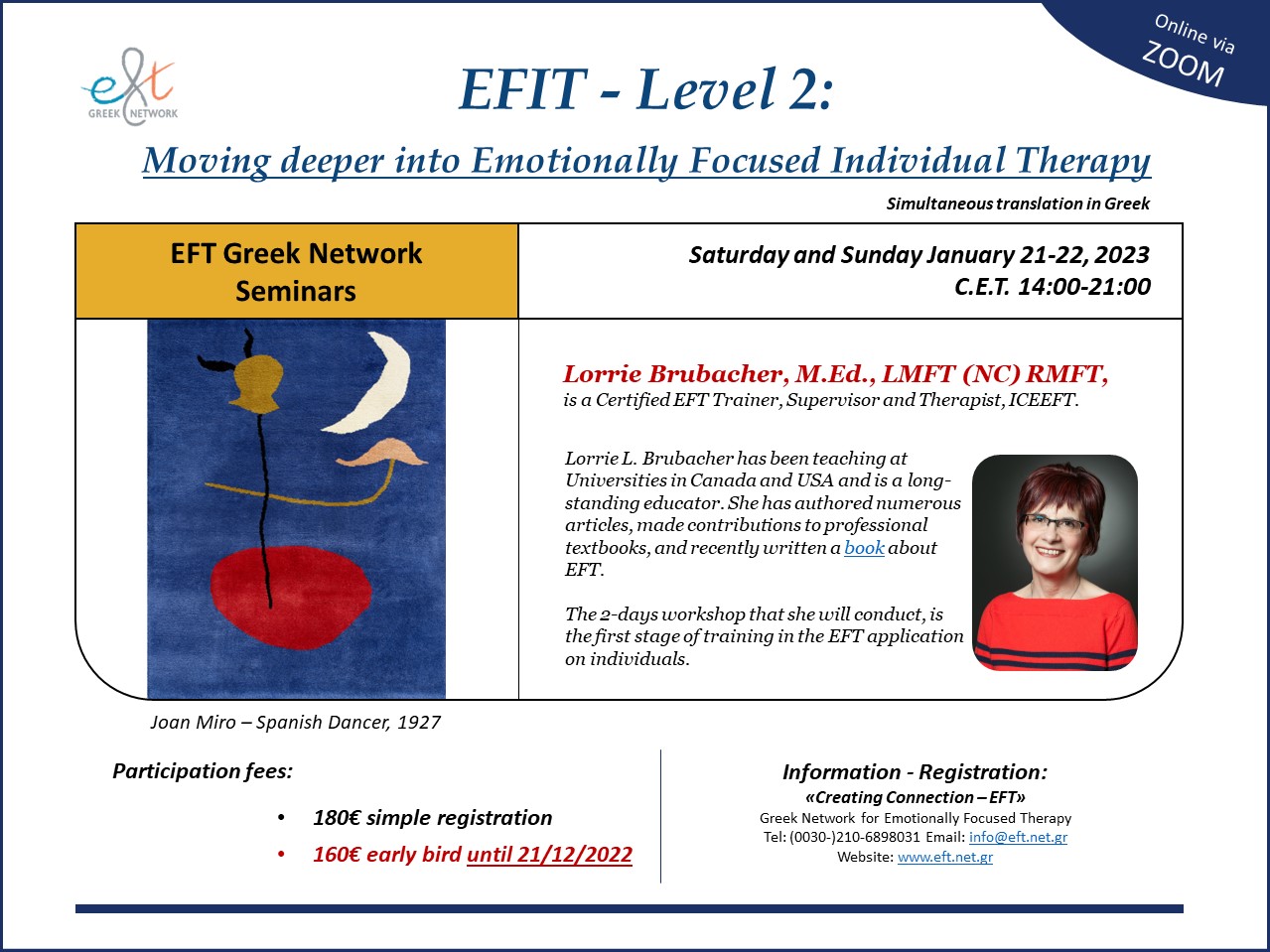 EFIT is an attachment science-based approach to individual therapy that, like the other EFT interventions, offers an integration of humanistic experiential interventions focused on reshaping intrapsychic experience and systemic interventions focused on reshaping patterns of engagement with significant others. Emotion is given precedence because of its powerful role in structuring inner experience, motivation, and key interactional patterns in relationships. Emotion links and organizes core experience and interaction. Emotion moves people. Understanding the intuition of emotion and how to use it to create potent and sustainable change moves both the client and therapist. Sessions become more focused and effective. Corrective emotional experiences transform, shift perspectives and shift thoughts about self, trust, confidence and competence. It is an organic change process: When emotions are tapped into and used effectively, a shift in thoughts and coping strategies naturally follows.
Emotion is a reliable guide post and the destination is clear: Secure attachment. The lens of attachment helps us to see and understand individuals in context. EFT provides us with the tools, and a roadmap, to help each individual achieve a secure connection with themselves and their most important relationships.
EFIT Level 2 objectives will be addressed in more depth and with more practice and discussion than in the Level 1 training and with more reference to specific kinds of clients and situations that participants find challenging. EFIT Level 2 will build on and elaborate on Level 1 and is the final requirement for ICEEFT recognition of special training in EFIT. Participants are encouraged to be prepared to pinpoint brief examples of places they become confused or stuck in the practice of EFIT and/or specifically in the EFT Tango to bring into the training.
Didactic presentations will be accompanied by the viewing of EFIT sessions and experiential exercises.
PROGRAM OBJECTIVES
Participation in EFIT Level 2 will enable you to:
Adopt an attachment humanistic perspective on clients, problems and interventions.
Discover and distil core emotional experiences and promote emotional balance.
Outline protective, self-defining and interactional iatrogenic patterns.
Implement the 5 moves of the EFT Tango to shape corrective emotional experience and EFT micro-interventions.
Choreograph dramas that expand the self and open engagement with others.
Integrate corrective emotional experiences into models of self and others.
Validate the client's sense of competence and worth in every session.
TARGET AUDIENCE:
Mental Health Professionals, Social Workers, Psychologists, and Students in these professions have completed EFIT–Level 1.
LEVEL
Intermediate
Note that:
You will benefit more from this training if you have completed the EFT Externship
Suggested readings: Chapter 12 on EFIT in (Brubacher, 2018) Emotionally Focused Couple Therapy: Key ingredients of change. 
It is recommended that participants obtain and use the Becoming an Emotionally Focused Therapist: The Workbook, (2nd Edition, 2022) and complete the exercises in the EFIT chapter before or during the training.
Lorrie L. Brubacher, M.Ed. LMFT (NC) RMFT, Certified EFT Trainer, ICEEFT
Lorrie Brubacher is a registered marriage and family therapist, with over 30 years of
experience as an individual, couple and family therapist. She is an ICEEFT-certified
trainer with expertise in Emotionally Focused Therapy (EFT) which is one of the
most researched and highly effective relationships counselling approaches.
Lorrie has been teaching at several universities in Canada and the United States. She
provides consultation, supervision and training to individuals, couples, and family
therapists.
Lorrie has authored numerous peer-reviewed journal articles, made contributions to
professional textbooks, and wrote the popular book, "Stepping into Emotionally
Focused Couple Therapy: Key Ingredients of Change" (Routledge, 2018)
For training videos and more information:
www.steppingintoeft.com
www.carolinaeft.com
www.lbrubacher.com
www.attachmentinjuryrepair.com